Vancouver is a West coast seaport in British Columbia; boasting mountain ranges, glacial lakes and extensive forests. Amidst all of this natural beauty, Vancouver is one of Canada's most densely populated cities. Popular with tourists all year round, the winter months provide fantastic ski slopes, that are just a mere 30 minutes' drive from downtown Vancouver. Whilst in the summer, sun seekers head to spots such as English Bay Beach to top up their tan and try their hand at water sports.
Vancouver is home to an extraordinary array of wildlife and marine life – gaze upon Orca, Humpback and Minke whales out at sea, or marvel at grizzly bears feeding on salmon on the shorelines, watch beavers tend their damns or if really lucky spot a bald eagle in flight. On the opposite end of the spectrum Vancouver has a bustling nightlife – Vancouverites work hard but they play harder. Take a trip to Granville Street, illuminated with neon signs, packed with people and bursting with bars and clubs.
Long haul, adventure, relaxation
Direct flights
10 hrs flight time from London
GMT –8hrs
Our favourite time to visit is March – May (Spring)
In Vancouver, Canada you must:
Go ocean kayaking during low tide - explore the natural beauty of British Columbia's remote marine reserve and get a glimpse at its intertidal life up close.
Glimpse a grizzly bear – watch grizzlies feeding their cubs along salmon filled rivers in pristine wilderness.
Discover nature's cathedral with a rainforest hike in Stanley Park: hike in old-growth rainforest boasting ancient cedars towering hundreds of feet high.
Go on a marine eco adventure – on the waters of the Discovery Islands, the views of sea life are endless. Marvel at sea lions, porpoises, dolphins, whales or elephant seals.
Feast on JapaDogs - Vancouver is famous for their Japanese inspired hotdogs. They are salty, sweet, and spicy, with tastes of seaweed flakes, teriyaki sauce, miso, wasabi and kimchi.
Visit Granville Island public market - this infamous indoor market is home to bright colours, fantastic food and handcrafted products, it is extremely popular for Vancouver's younger residents. Everything is fresh from the ocean, oven or field.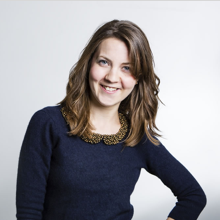 By Sophie Darbon
Sophie began her career in events back in 2010 after graduating from Bournemouth University with a BA in Events Management. Sophie is passionate about all events but particularly loves working in incentive travel.More articles by Sophie Darbon