Your chosen venue has a huge impact on the success  of your incentive experience. Penguins are experts in delivering once-in-a-lifetime incentive travel programmes across the globe. We believe that the right venue can set the tone for the entire incentive. As we have seen an increase in UK incentives, the Penguins incentives team have compiled some of our favourite creative UK venues. Each venue offers something slightly different, which is why we love them.
1. The Fish Hotel, The Cotswolds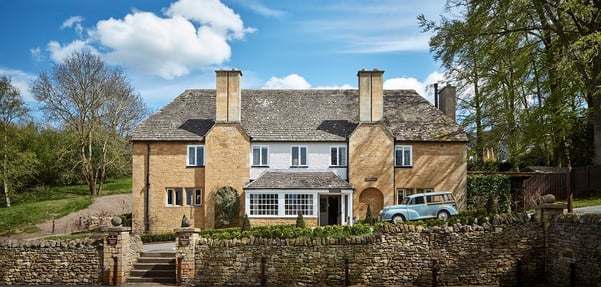 Nestled in the Cotswold hilltops is the 400-acre private estate of The Fish Hotel. A quintessentially English venue like no other with quirky accommodation, state of the art facilities and bountiful on-site activities. The estate boasts 63 bedrooms including country chic suites and luxurious scandi-style huts - available all year round thanks to underfloor heating, not forgetting the outdoor baths and private hot tubs! If you want to take your team back in time to relive their childhood, The Fish have three treehouses available. Each treehouse is surrounded by glorious woodland and includes rope bridge access for that fully authentic experience. The Fish lends itself to a variety of employee engagement events from exclusive use retreats, to glamorous festivals and cosy al fresco dining. There is never a dull moment here
2. Abbey Road, London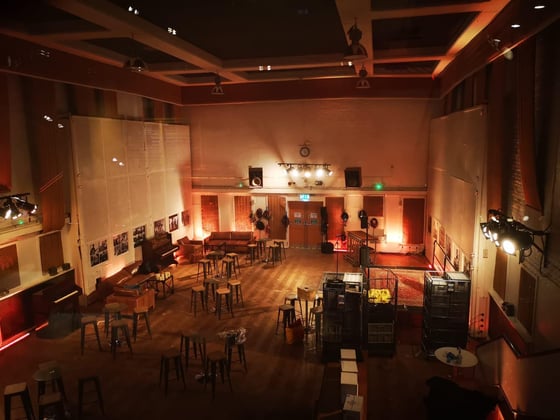 Walk in the footsteps of music legends at Abbey Road Studios, the most famous recording studio in the world. The iconic space has been the recording site of masterpieces from artists such as The Beatles, Pink Floyd and Oasis. The venue can be tailored to create a truly unique event. With three adaptable studios, the options at Abbey Road are endless: from intimate drinks receptions, lavish private dinners, or a personal performance. Abbey Road also offers a once-in-a-lifetime immersive experience and a bespoke 'Record a Song' option, making the studios a truly one of a kind setting.
3. Solent Forts (Spitbank Fort & No Mans Fort), Portsmouth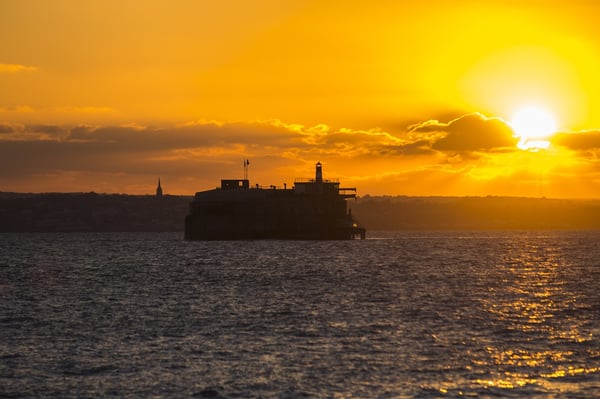 Nothing says exclusivity quite like Spitbank Fort. This unique adults-only private island can only be reached by boat and offers beautiful views across the Solent and Portsmouth. Boasting 9 luxuriously converted bedroom suites, a library, games room and its own wine cellar, this island lends itself perfectly to intimate, exclusive use retreats.
For larger groups, Spitbank Fort's sister island, No Man's Fort, is home to 22 spacious bedroom suites and additional on-site facilities including a cabaret club, a laser tag arena, and a spectacular glass roof Atrium.
Activity options on each island are abundant, from exhilarating RIB boat rides and fishing to wine and cheese tasting or cocktail making. If it's relaxation you're looking for, each private island includes a sauna, steam room and rooftop hot tubs, as well the option for in-room spa treatments. The private islands also feature rooftop sundecks and a firepit where guests can gaze out at the stars as they toast marshmallows, snuggled in cosy blankets. It is hard to imagine a more idyllic setting!
4. Port Lympne, Kent
Experience adventure like never before by spending a night sleeping amongst wildlife in a safari park. The 600-acre Port Lympne reserve is situated near the small town of Hythe in Kent. You will be transported to the plains of Africa and jungles of Asia where the animals will be roaming freely. Experience a safari on your doorstep, enjoy amazing food in one of their restaurants, where all the produce is locally grown; then return to the safety of your bed for the night, while tigers roam metres away. Whether you are staying in the luxurious boutique hotel, the Lion Lodge getting up close and personal with big cats, or enjoying a night under the stars in a panoramic bubble pod, you are certain to have an unforgettable stay. This is made all the better by recognising that you are directly contributing to the preservation and conservation work that Port Lympne are doing. All profits go back into their animal charity that works to save endangered animals and return them to the wild.
5. Watergate Bay Hotel, Cornwall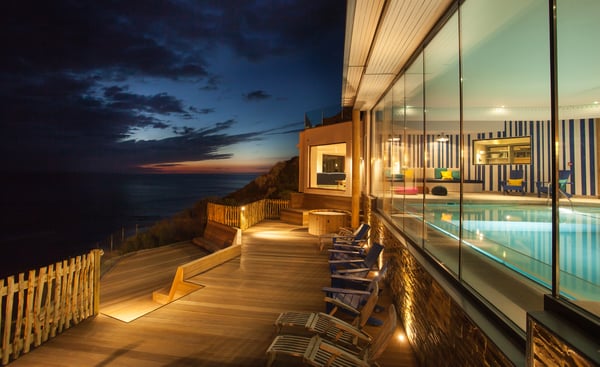 Watergate Bay Hotel occupies a privileged location on the North Cornwall coast, overlooking two miles of beautiful golden sand and surrounded by a dramatic coastline. Perfect for those who love the outdoors, the hotel has its very own 'Extreme Academy' where guests can try their hand at a number of different water sports including surfing, bodyboarding, stand-up paddle boarding, kayaking and kite-surfing. The hotel is also home to a 25-metre infinity pool, a Canadian hot tub and a Finnish timber sauna, all of which offer spectacular views across the bay. Each of the 71 bedrooms are designed in a coastal contemporary style, many of which offer sea views and private patios with loungers. When it comes to dining, guests are spoilt for choice with five restaurants, each offering a diverse menu created to provide guests with choice without having to venture out of the bay. With so much to enjoy on site, the hotel provides the perfect blend of relaxation and adventure, ideal for an incentive retreat.
You don't have to fly halfway around the world to have an unforgettable experience. The UK has so much to offer in terms of incentive getaways. Penguins are passionate about creating awareness for UK based incentives; they are closer to home, you can maximise your time and most importantly they are more sustainable!