Slovenia is bursting with natural beauty. Awarded the title of most sustainable country in the world, by The National Geographic, Slovenia boasts breathtaking scenery, tranquil lakes, and snow-capped peaks. Although Slovenia's spectacular nature is the biggest attraction for visitors, the varied architecture and handcrafted wonders will leave you awe-struck.
Slovenia is a great year round incentive destination. Each season bringing a different experience. In the winter, the Julian Alps are crammed with skiers and snowboarders! Take your skis down the slopes at Vogel Bohinj if you are feeling brave.
In the summer, The Slovenian Riviera, stretching just 46.6km, is magical; the waters are calm and crystal clear, with an Opal like sparkle. Visit the coastal town of Piran to enjoy water sports or simply paddle, in the Adriatic.
Arguably, the best season to visit Slovenia is in autumn. Autumnal hues of red, amber, orange and pink adorn the landscape, as the heat begins to lift. Take in the beauty as you hike, bike or walk around the Alpine regions. In the evening, take a hot air balloon over Lake Bled, and gaze upon the sun as it disappears beyond the horizon.
Although Slovenia's natural beauty is its main pull, you should not overlook the man made marvels of Slovenia. Visit Slovenia's capital city of Ljubljana to experience Baroque and Art Nouveau at its finest. Lake Bled boasts a tiny Romanesque/Renaissance style chapel on a charming island. Slovenian architecture has taken influence from across Europe: Austria, Hungary and Venice to name but a few.
In Slovenia, you must dine on the local delicacies; heavily influenced by flavours from Italy, Austria, Croatia and Hungary, the food is very diverse. There are 7 regions in Slovenia, each with its own delicacies – it goes without saying that in Slovenia you are in for a gastronomic treat. You will sample traditional dishes such as Bujta Repa – a pork dish, similar to a stew – and Belokranjska Povitica, a pastry in the shape of a Catherine wheel, normally filled with cream cheese or curds. Luckily, Slovenians only use locally sourced, fresh ingredients, hence why the food is so taste bud tantalisingly good.
Slovenia is an ideal incentive travel destination. You can visit the country all year round; each season has its attractions. The people and cuisine demonstrate true Slovak culture, and the multitude of landscapes have people returning for more. Make sure you download your incentive travel checklist so you can be prepared for your trip.
Direct flights
2hrs from LON
GMT +1 Hour
In Slovenia, you must:
Take a hot air balloon over Lake Bled at sunset
Spend the night in an igloo at Kranjska Gora and dine on traditional Slovenian Carniolian
Wine taste in the Vipava Valley, near the Italian border. The valley has a mild climate with strong winter Bora winds, making it the perfect climate for wine tasting.
White water rafting on Soča River
Read our Top 10 Incentive Travel Destinations for 2019 blog and find out about the destinations that we think will motivate and engage your employees this year.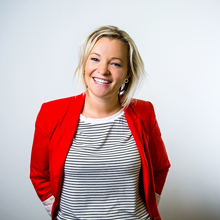 By Holly Mills
Beginning her career in incentive travel in 2007 Holly is an expert in delivering once in a lifetime experiences to reward and recognise groups.More articles by Holly Mills