Whilst January may seem like a strange time to write about Christmas markets, there is actually no better time. The New Year inspires in us the desire to set goals, dream big, create plans, it is the perfect time to start thinking about the achievement of corporate objectives and the motivation of employees through incentive programmes. It is also the moment when the joys of the festive period are freshest in our minds. These markets create Inspirational and magical moments, provide opportunities for unique, frivolous and indulgent purchases for attendees and their dearest, and most importantly provide a welcome escape at a time when a break away is not generally on the agenda.
Whilst the German Markets of Munich are, still some of the finest, our explorations across the globe have led us to uncover Christmas markets that would fill even the Grinch's heart with festive joy. The following markets offer equally as much magic, are slightly less known and offer the surprises and uniqueness of culture within each location. Check out our top five Christmas markets for 2018 and beyond.
Stuttgart, Germany

Stuttgart is a Penguins favourite. From the end of November, Stuttgart is transformed into a Christmas lover's paradise. The city and its surrounding area boast in excess of five unique, yet spectacularly festive Christmas markets. There are two markets in the heart of the city so you don't have to venture far "Weihnachtsmarkt" sits in Markplatz whilst the Finnish Christmas Village is situated Karlsplatz, here you can get a taste of a traditional Finnish Christmas in the heart of Germany. By venturing a little further afield, you will come across a range of markets in local towns such as the Baroque Christmas Market in Ludwigsburg or Esslingen's Medieval Christmas Market. Once you are filled with the joy of Christmas, there is also the opportunity to explore the Mercedes and Porsche museums that can add an extra touch of luxury, maybe with a private dinner or drinks reception at one of these two fantastic venues.
Zagreb, Croatia

In recent years, Croatia has become known as a hot spot for the high life. Throughout the summer months tourists arrive in their droves, whether to experience the rich culture or party long into the night at one of the island festivals. But as winter takes hold the ancient city of Zagreb prepares for some of its busiest months, as the twice award winning Christmas markets fill the streets. At the centre of this festive extravaganza sits the Ice Park, sat between Tomislav Square and the Art Pavilion this space becomes one of the most spectacular skating and light displays you may ever set your eyes upon. Christmas time truly does bring out the best in Zagreb; the streets are adorned with fantastical light displays, whilst local restaurants make the most of the passing crowds by bringing their kitchens to the streets. This is less of a Christmas Market and more of Christmas Town.
Riga, Latvia

Riga was named the European Capital of Culture in 2014 and it's easy to see why. Boasting an impressive array of historic buildings, over sized churches and cobbled lanes, this UNESCO World Heritage Site provides a truly authentic Latvian experience. The three Christmas markets run from the first week of December to the first week in January and are a little more rustic which adds to the beauty of the experience. The stalls feature a range of hand made goods including woodcarvings and locally knitted items. The Christmas markets of Riga are distinctive for their scent, here more than other locations gingerbread is a significant tradition and the sweet & spicy tones linger in the crisp winter air. Another culinary experience which is fairly unique to Riga is their meal of "Grey peas and bacon", although it may not sound like a delight, on a cold winters day this is sure to fill your belly with joy. You may even be lucky enough to catch a glimpse of one of the local winter sports such as log dragging or witness a performance from one of the local pop or folk bands which pop up around the city.
Chicago, USA

Wanting to offer something a little more left field, Chicago is a destination, you probably were not expecting to find on a list of top Christmas markets, but we feel you will be pleasantly surprised. Obviously if planning an incentive from Europe, this will require a slightly larger budget due to the cost of flights, but you will not be disappointed by what is on offer. The Christkindle Market is a combination of traditional European market and your childhood imagination of Christmas at Bloomingdale's. There are certainly no corners cut when it comes to investing in the Christmas spirit, and unlike other markets they have taken into consideration the corporate demand, providing unique spaces that can be hired out adding that premium feel, it is also great to have an area to get away from the bustle. Check out what else Chicago has to offer in our Whistle Stop Tour blog.
Winchester, UK

Sometimes you do not have to travel far to get into the festive spirit, Winchester sits just over an hour from London and has a lot to offer those looking for a unique gift. The Winchester markets are great for those who love to shop; hundreds of wooden chalets adorn the streets around the Cathedral, which sits at the heart of the market. Stallholders are strictly vetted to ensure the finest of wares are available for the discerning shopper and each year the Cathedral creates a unique nativity scene, which is a great photo opportunity. With any Christmas, market food is a significant feature and you will not be disappointed, whether it is roasted chestnuts or cinnamon churros you will find something to keep you sustained during your visit.
Now having just written about five of my favourite Christmas Market destinations I realise how "samey" they may sound, but this is truly not the case. Each destination holds its own magic which when planned properly will create truly unforgettable moments. I find the key to success is the personal touches, whether it be a glass of mulled wine on a private terrace looking down over the market, or a private cheese tasting with the local stallholder. It truly is the small touches that count.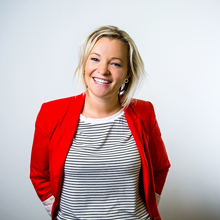 By Holly Mills
Beginning her career in incentive travel in 2007 Holly is an expert in delivering once in a lifetime experiences to reward and recognise groups.More articles by Holly Mills