Whether long or short-haul, there are some wonderful out-of-the-box locations to consider for your next incentive destination. We have selected the best locations for 2017:
1) San Francisco, USA

One of our favourites to kick off the list. Take in San Fran's Golden Gate Bridge with a bowl of chowder, then spend the afternoon tasting wines in Sonoma. Find out more...
2) Seville, Spain

The capital of Spain's Andalusia region, Seville has so much to offer. With 3 UNESCO world heritage sites in its 2 square mile old town, Spain's only river port boasts amazing seafood, a hotbed for flamenco dance and a city bursting with culture and alive with personality.
3) Reykjavik, Iceland

If you'd prefer to treat your staff to a cold-weather getaway, look no further than Iceland. A mere three hours away from London, this magical landscape featuring glaciers, hot springs and the Northern Lights is best viewed from the back of a husky-led sledge. Find out more...
4) St Petersburg, Russia

The worlds northern most city, St Petersburg is Russia's cultural capital having served as the Imperial Capital of Russia for over 200 years. Explore the rich and colourful architecture throughout its long summer days or warm the winter days with a traditional Russkaya Baynya Sauna treatment. Find out more...
5) Phnom Penh, Cambodia

Duck out of the way of kamikaze motorcyclists in Cambodia's colourful capital and learn all about their rich history. Visit the Artisans d'Angkor Silk Farm and see how this beautiful fabric is made. Find out more...
6) Dubrovnik, Croatia

One of the world's best preserved medieval walled cities, Dubrovnik nestles on the coast of the Adriatic Sea, glistening in the Mediterranean sun. Stroll along the cities marble streets, take the cable car to the top of Mt Srđ or enjoy sumptuous local fayre at a bay side restaurant. Find out more...
7) Jaipur, India

For a real taste of something different, head to Jaipur for spice, colour, action and elephants. Either explore on an elephant safari or take in a game of elephant polo at the Dera Amer. Find out more...
8) Banff, Canada

Another excellent long-haul destination, deep into the Canadian Rockies. For an outdoor focused escape, Banff is perfect, offering horse riding, white water rafting, canoeing, and hiking. Relax those tired muscles with a dip in the hot springs. Find out more...
9) Windheok, Namibia

Get off the beaten path - on a bicycle! Exploring the Katutura Township is an authentic way to see the sights. See rock paintings in the Erongo Mountains and spot wildlife by the waterholes of Etosha National Park. Find out more...
10) Galway, Ireland

For a stunning location a little closer to home, Galway offers luxury in world class settings. Take a tour of the local seafood, including famous Kelly Oysters. Pair with local whiskey and you're laughing! Find out more...
Our incentive travel professionals have pulled together this ultimate checklist to help make planning your next incentive trip a little easier - download the checklist here.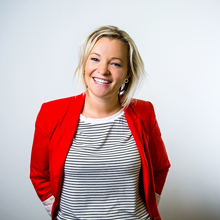 By Holly Mills
Beginning her career in incentive travel in 2007 Holly is an expert in delivering once in a lifetime experiences to reward and recognise groups.More articles by Holly Mills