Located on the sunny Atlantic coast of South Florida lays the lively and diverse city of Miami. A ten-hour direct flight from London will see you wandering around the streets decorated with Art Deco style buildings or perhaps along the beautiful golden sands that adorn the coast; what appears to be a blissful paradise is actually a city alive with culture, boasting a nightlife that will rival any other.
On our whistle stop tour our first stop had to be Nikki Beach Club, this luxury beach club located directly on the South Pointe beach boasts an award-winning restaurant and offers cocktails that will make you the envy of your Instagram followers. Do not be surprised if you bump into more than one A-list celebrity on your visit, whether it is for a spot of lunch an evening cocktail or to watch the sunset before partying long into the night, one guarantee is you'll be treated to a glamourous occasion.
If you have spent a day partying at Nikki Beach then our second destination may be just the tonic required. A short drive along the coast brings us to Biscayne Bay national park, home to the now abandoned Stiltsville. Once this collection of thirty quirky houses, clubs, bars and casinos built on stilts was a social honey pot for revellers from across the states looking to party long into the midnight hours. Now with only seven of the original thirty structures remaining, it is a must see for any visitor. Perched above the glistening turquoise waters, it is clear the years have taken their toll, residents have long departed and the storms have disintegrated all but the remaining seven structures. After each new storm locals wait with baited breath in the hope that these iconic structures have survived.
This is an experience that is easy to enhance for your attendees, take to the sea on a private craft to get a closer look or if feeling more adventurous enjoy a Birdseye view from the cockpit of a helicopter. An added bonus of the trip by car to the peninsula is the opportunity to try some of the local restaurants and soak up the views. My favourite is the Stiltsville Fish Bar, offering great local seafood although it is a little rustic; if you are in search of something a little more premium then the Rusty Pelican is a great alternative.

Next stop Miami's abstract Art Deco centre. The neighbourhood really shows off Miami's qualities, colourful buildings, interesting décor and century old history, offering a glimpse into the fabric on which this magical city created. Located along the stunning Florida Beach coastline is the famous Ocean Drive, known for its amazing atmosphere and charming location.
Along the renowned boulevard are a number of magnificent places to absorb the sights and ambience. As you meander around you will come across traditional Art Deco style hotels such as the Beacon Hotel and the Colony Hotel (The most photographed art deco building in the world) both distinctive by the neon accents and giant signs that stand out especially in the night sky, these are iconic and a definite must see. One of our personal favourites is the National Hotel, one of the most majestic hotels in Miami featuring 116 newly designed rooms and a 205-foot-long infinity pool (the longest in Miami Beach area). It is a great location to stop off and relax allowing you to have some much-needed down time away from the hustle and bustle of the city.
If you are looking for something a little different and wanting to see all of the amazing sights then the self-guided walking tour is a great option. This is the best way to see all of Miami's architectural history in one go, with an abundance of restaurants and hotels to view on the way, there is a variety of sights for everyone to see. Starting at the Art Deco Welcome Centre, following a route that takes you through the best of Miami's architecture and finishing at Delano, one of Miami's tallest buildings. This is a hotspot for celebrities such as Jay Z and Leo DiCaprio and is the place to be seen in town. The walking tour is a must if you are in Miami for a short period and want to gain an insight into the magnificent history of this great city.
While on the walking tour, you will come across the extravagant Casa Casuarina (Known as the Versace Mansion), the former mansion of fashion designer Versace. This house screams opulence, featuring 10 custom double rooms and the exquisite thousand-piece mosaic pool. Staying at the Casa Casuarina gives you a glimpse of a celebrity lifestyle, a once in a lifetime opportunity, with its inimitable décor this really is a statement venue and is well suited for smaller incentive groups with big personalities.

Espanola Way is another area that is a must visit and a real contrast to Ocean Drive. This pedestrian only stretch of road features European inspired buildings particularly from France and Spain, this place is bustling with life as the cafés and restaurants with cuisines from all-over the world spill out onto the street. A firm favourite being Oh Mexico, it is modest in décor but offers some of the best Mexican food in town and their margaritas are special. If Italian is more of your thing then Pane & Vino is the place for you, this cosy little place has great handmade Italian fayre.
Our final stop, Wynwood Walls. Once a thriving warehouse district in the centre of Miami, now converted into one of America's hippest neighbourhoods. Artists were encouraged to express their creativity and regenerate the streets into a place people could enjoy. Featuring 50 of the greatest street artists all brought together to create an exhibition of life murals, graffiti and abstract paintings. In addition to the magnificent artwork are some of the best street food vendors you are likely to have the pleasure to eat from, the standard is so high here that it even attracts Michelin starred Chefs. If visiting check out Ms Cheezious, which sells traditional grilled cheese sandwiches and Kuenko this truck offers Japanese food from Spanish Chef Riccardo Sanz who runs the Michelin starred Kabuki in Madrid. We would recommend a visit around the second Saturday of the month, there is a community wide Art Walk, a great time to visit and get a real feel for the vibrancy of Miami.

Miami is a destination of surprises, around every corner you will find a hidden gem, be it a building or vista of outstanding beauty, street food vendor that will leave you drooling or a celeb hotspot to make you the envy of all of your friends. This is a city where the culture and ambience is the main focus and is a really cool place for people watching. There are so many ways to enhance an incentive trip to Miami, whether you want to add a touch of luxury or strip it back and deliver authenticity that could not be achieved on your normal holiday.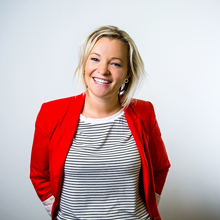 By Holly Mills
Beginning her career in incentive travel in 2007 Holly is an expert in delivering once in a lifetime experiences to reward and recognise groups.More articles by Holly Mills