Earlier this month, Sophie from our Incentives team took some time out of the office to attend the 2018 edition of Invoyage, an international forum where we had the opportunity to meet with luxury travel brands and suppliers. All with the sole purpose of developing our supplier relationships and learning about potential new travel destinations on behalf of our corporate clients.
This year, Invoyage took place in Ras Al Khaimah, an emerging destination within the United Arab Emirates, around an hour outside of Dubai. Ras Al Khaimah is home to 35% of the Emirates' population and is beginning to emerge as a travel destination for adventure seeking travellers. This area features the highest mountain of the UAE, the World's Longest Zipline, a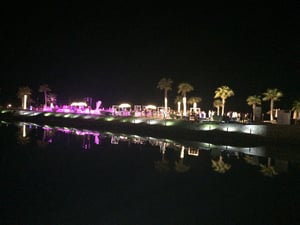 beautiful coastline, stunning desert and was the location of the first commercial Via Ferrata (mountain climbing with the aid of fixed metal cables and ladders). There are also multiple luxury hotels synonymous with the UAE; during her stay, Sophie was hosted at the Waldorf Astoria Ras Al Khaimah. The beachfront, 5* hotel boasts over 300 bedrooms, 10 restaurants, 2 swimming pools, water sports and an award winning spa and golf course.
Invoyage is attended by luxury event buyers and suppliers from across the World including Europe, Asia, The Middle East, Africa and the Americas. Much of the two day conference is dedicated to fifteen minute one to one meetings with suppliers. During her time there, Sophie met with destination management companies from across multiple destinations such as Switzerland, India, Africa and Russia. Sophie was also updated on many luxury hotels across the UK, Europe, USA and Asia to name a few, as well as more niche products such as luxury safari lodges and cruise ships. The two days of meetings was interspersed with experiences that showcased what Ras Al Khaimah has to offer as a destination. Sophie kayaked through mangroves, dined in the desert at the Ritz Carlton Al Wadi Property with 1000 candles lit across the sand. The final night was hosted at The Cove Rotana Resort with a beach club style party under the stars.
There were also enticing plenary sessions throughout the Forum. During the first day, a panel of experts explored what 'luxury' really means today. It was discussed that the term 'five star' is more of a quality measure while the term 'luxury' relates to the individual and their experience. Luxury is personal and is often more about how that individual is made to feel as opposed to the furnishings of their bedroom, or the food on their plate. Day One also focused on the increasing importance of CSR in our clients' events and incentive travel, an area that Penguins is very pas
sionate about. Andrew Grill, a practical futurist, brought home the importance of digital data and how this, along with guests' digital body language can be extremely valuable in designing successful reward and recognition events. The forum was wrapped up with a fantastic session by David Meade, an international speaker and BBC Personality. Having been a researcher and lecturer in international business in a previous life, David brought a wealth of knowledge to his session. Coupled with his interest in psychology and spooky yet impressive mind-reading skills, the entertaining session focused on the psychology around decision making and how best to work with our clients in deciding upon programmes and destinations for their luxury events.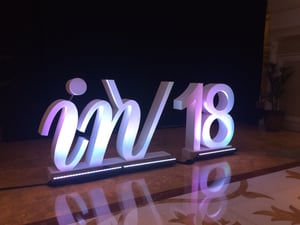 All in all, it was a busy yet truly valuable few days for our incentives team. Here at Penguins we are focused on keeping ahead of the game and discovering the latest innovations and products that will allow us to ensure we deliver successful reward and recognition programmes for our clients. The Invoyage Forum always delivers with an array of elite suppliers and destinations, we are already looking forward to next year's edition, and putting our learnings in to action for our reward and recognition clients.