If you are in search of an incentive destination that will provide its attendees with an adventure on par with a great expedition, then Svalbard is definitely one to consider. Svalbard is a group of islands, which is known geographically as an archipelago. Positioned deep in the Arctic Ocean halfway between Norway and the North Pole this adventure will take you to a town called Longyearbyen on the island of Spitsbergen. This is the administrative capital and greatest inhabited area of all of the islands, home to around 2,000 inhabitants. Approximately 1,000 others live across the islands giving a whopping total of 3,000 inhabitants. Which means there are almost more polar bears than people in this frozen desert.
Longyearbyen has developed into a brightly coloured thriving community that has utilised its unique culture and landscape to create a veritable honeypot for the intrepid traveller. The landscape is intimidating yet enthralling from majestic mountain formations, to imposing glaciers and arctic tundra as far as the eye can see. The stunning visuals are what draw many visitors, with something spellbinding to view almost all year round. The Northern Lights tend to be visible from October to February, alternatively visit for a Polar Night, where there is total darkness for almost 24 hours; or a Midnight Sun where it is daylight for almost 24 hours. Phenomenon which are unique within the arctic circles.
The Town of Longyearbyen and the surrounding islands have transformed its reputation, from a culture that depended on trapping and whaling, into a certified Sustainable Destination. With nearly two thirds of the surface of the islands being protected. A visit hear will require you to wrap up warm with highs of 6 degrees, however the warm welcome received from the locals with roaring fires and the customary removal of shoes at every door will help to deliver a warmer feeling inside.
There is no surprise that Svalbard has ranked in the Top 10 of Penguins' Incentive Travel Destinations for 2019.
+ 1 Stop at Tromsø or Oslo
GMT +1 hour
6 hours from LON
This is an all year round destination
In Svalbard, you must:
Experience kayaking in the Fjords, and picnicking on a glacier
Experience the local transport – dog sledding and snowmobiles
Enjoy a candlelit dinner under the Northern Lights
Witness polar bears in their natural habitat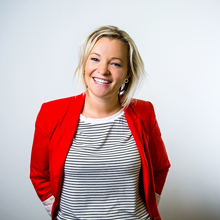 By Holly Mills
Beginning her career in incentive travel in 2007 Holly is an expert in delivering once in a lifetime experiences to reward and recognise groups.More articles by Holly Mills