Well I just can't believe that these Whistle-stop tours just get better and better, but they do. If you are involved in events you'll appreciate that every event is different and each destination has something unique to offer and the point was certainly proven with our trip to Malaga in Spain. For me Spain offers the perfect destination for conferences and incentives. It has it all. The sun, the history, the culture and all the modern and contemporary facilities that are required in staging today's events.
A big "shout out" must go to our friends at Barcelo Hotels who very kindly hosted this trip and looked after ten of our clients, plus our ever fantastic partners at Ole Special Events.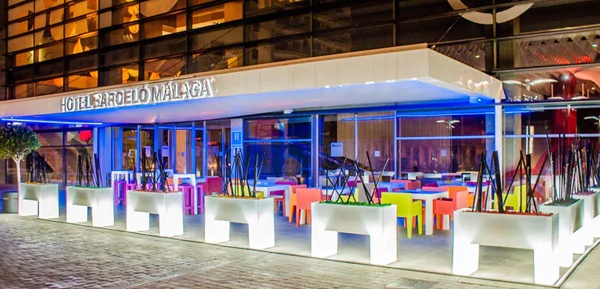 Our first port of call was the Hotel Barcelo Malaga which is a modern hotel that boasts all the latest facilities that we all expect of a vibrant city hotel, plus it has a slide from the first floor into the reception! I was just disappointed that there wasn't one on every floor!!
We had a private tour of historic Malaga. I had no idea that Malaga was the birth place of Picasso. So after seeing some of the beautiful sites of this city we then all enjoyed a private visit the Picasso Museum.
As with all of these trips it is essential to stay refreshed and so we called into Bodegas El Pimpi to taste the fabulous sweet wine of the region. Good start. Later on we found ourselves on the beautifully regenerated waterfront for dinner at the Kaleido restaurant owned by Antonio Banderas. Not a cat in sight! After a beautiful dinner, if overlooking the sea was not enough we set sail on it in a stunning catamaran - perfect for an incentive… this was all within a few hours of arriving in Malaga!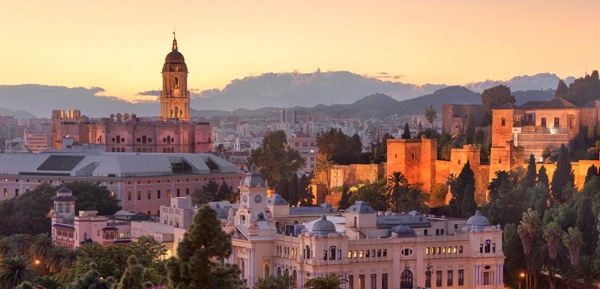 Day two and after breakfast at the Hotel Barcelo we headed inland to learn about one of Spains biggest exports, Olive Oil. We visited the Hojiblanca Olive Oil Cooperative, a short distance from Antequera. This cooperative of 55,000 farming families produces no less than 15% of the world's olive oil whilst Spain produces 80% of the world's supply. Incredible! After visiting one of the vast oil groves where the questions just kept coming, we had to sample a variety of olive oils.
Of course all this tasting and talk of food soon left us hungry so it was off to our next culinary delight. Lunch at Antequera's Bull Ring! Now admittedly a bull ring would not be my first choice for lunch but in hindsight this is Spain and you don't get much more Spanish than this. A very interesting way to entertain a group, an aperitif in the bull ring followed by lunch.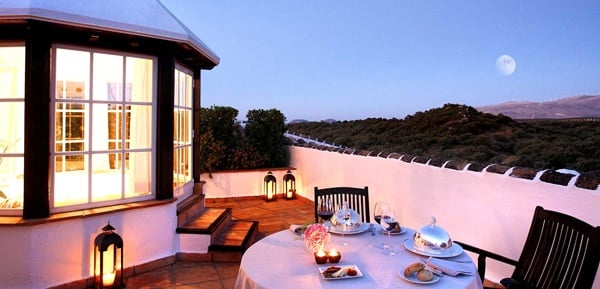 Our next stop and our hosts for our second night was the stunningly beautiful Barcelo La Bobadilla set amidst 750 acres of olive groves and rolling hills. This five star oasis is quite simply magical. It did not disappoint and how could it when those that have stayed here have come from the highest echelons of society and royalty. Despite all this grandeur, upon arrival there is nothing quite like getting stuck into learning how to make your very own Gazpacho in the hotels kitchen before being given a guided tour of the this quintessentially Spanish villa hotel.
With an hour or two before dinner in La Finca, one of the hotels gastronomique restaurants, there was plenty to see and do. If you don't fancy a dip in the enormous landscaped outdoor pool then why not visit the spa or hire out one of their quad bikes or even take a trek out on one of their Andalucían horses.
La Finca, with its views over the Sierra Navada Mountains provided not only the perfect sunset but also some of the nicest food and wine I have had in a long time. Everyone was in fine spirits and I for one, if only I hadn't opened my mouth about going for a run in the morning, could have stayed up all night. A very special place with very special people. A great end to day two.
After a delicious breakfast at La Bobadilla hotel and a very reluctant departure, next hotel stop was Barcelo Marbella but not before visiting the mountain village of Mijas, a white wash village overlooking the Mediterranean. After a very pleasant guided tour of the village it was time for a visit to Mijas Wine Museum. Clearly there is a theme running through our program that you might have spotted!!

Finally on to Barcelos hotel in Marbella. A versatile property with plenty of space and potential as an out of season conference centre. The hotel had laid on a fantastic pool party with food, massages, a Spanish guitarist and a Flamenco lesson. You can't say fairer than that can you?
And then sadly it's back to reality with a bump. The weather throughout was perfect, and like most of Europe this year Spain too has experienced its fair share of inclement weather but at the end of the day the sun is much more likely to shine there than here in the UK.
My recommendation: Spain has got so much to offer throughout the year. It is also great value for money, has great airports with connections throughout the year and the people are just so helpful. With our strong contacts in Spain you have got to consider not just Malaga but the whole of Spain for your events. You'd be mad not to.