This year the number of organisations opting for a virtual event doubled, and I think it's safe to say virtual has taken 2020 by storm. A lot of organisations have been forced to turn their live events virtual due to the unforeseen circumstances. While this comes with pros and cons, what it has done is push us to get a little bit more creative in our event planning. It has allowed us to have more virtual events than we would have live. This is surely beneficial, as we all know, it is now more important than ever to stay connected with our audiences. Virtual events are a great way of achieving this, with 91% of organisations choosing "Keeping members connected" as a primary goal of virtual events.
Whatever your reason for hosting a virtual event, here are our top tips for getting it bang on!
Make sure your event is interactive
One of the biggest and most dearly held misconceptions about virtual events is that it's harder to get supporters to participate in them. It is important to present opportunities for your audience to engage with the event, for example ask attendees to submit questions, participate in quizzes or live tweet the event; make use of the technology you have at your disposal and engage your attendees! A study by Bizzabo found that 90% of event marketers believe technology can have a major positive impact on their events' success.
Include engaging entertainment
With 49% of marketers saying that audience engagement is the most important element of a successful virtual event, it's important to include some kind of entertainment. For example, having a DJ, a magician or a sketch artist will really increase attendee engagement. You must give attendees a reason to stick around. It's not like at a live event where a captive audience are gathered at a venue. Virtual events do not require the full attention of attendees in the same way, some people could be making a cup of tea while others could be hanging out the washing. You need to hold their attention.
Have a good contingency plan
While today's technology is reliable and used day-to-day for entertainment purposes, there can occasionally be factors beyond our control. So, it's important that we do all we can to prepare for the worst and try and ensure that it doesn't happen. Make sure the internet connection is strong – there's nothing worse than the feed going down during the keynote speech. Prepare backups of visuals and presentations and if possible, run a rehearsal beforehand. Identify everything that could go wrong and identify solutions before the event goes live.
Think of your audience too. Allow for the fact that not everyone is as tech savvy as you are. Anticipate issues that your attendees may have by preparing an easy to follow guide or offering technical support.
Quality not quantity
Realistically your virtual event will not hold the attention of your audience for as long as a live event. Research has shown that when a broadcast is only one way, with your audience simply watching a video stream, the average attention span is 20 minutes. Prioritise the important information that your attendees need to know, whilst also keeping it concise - 80% of virtual event attendees prefer short sharp content sessions to long PowerPoints and speakers. It is vital to keep your audience engaged. Incorporate apps, games and learning materials to mix things up, and keep it short but sweet.
Timing is key
A lot of employees are currently working from home (WFH) and must contend with external problems and distractions, such as poor internet connections and children home from school. It is important to consider the working schedule of your attendees; 58% of virtual event attendees say organisers have made little or no provision for WFH pressures during the pandemic. Win homeworkers over with screen breaks and do your research on which times work best for your audience. Consider when your audience is usually online and, if your attendees are international, don't forget to factor in different time zones! Plenty of data gathering companies have collected statistics about different groups' preferred days and times that could prove invaluable in your planning.
Choose your platform wisely
Using tools such as Microsoft Teams or Zoom to facilitate day-to-day activity while working from home is fine. However, these are not appropriate for large scale broadcasts and virtual events. Ensure you use a robust solution that will make your event run smoothly and successfully. DRPG have created their own virtual and broadcast solutions which have applied to great success for numerous events. For more information, see our guide on transferring your live event to virtual.
Why?
Before you even consider organising a virtual event, it's vital that you're clear about why you are doing it. What is the message you want to convey? What are your objectives? What do you hope to achieve? Although it's virtual, you are still asking people to give up time in their busy days to attend your event; your message needs to be clear and it needs to be worthwhile for your attendees. 86% of people lose concentration in a video chat after the first 15 minutes – make those 15 minutes count.
Virtual events can work to any budget, any size, and any specifications. To continue to connect with people in this difficult time, it is necessary that we go virtual, or risk employee engagement, team morale and trust decreasing. Communication is key and bar meeting up in person, virtual is the best option. At DRPG we've been hosting virtual events since long before COVID-19 forced our hand. In fact, we have been bringing people together in virtual spaces for over 10 years. Whether you're hoping to engage your audience with a professional broadcast, virtual event, live stream or let them explore a fully realised virtual world, we have a solution for you.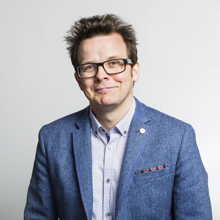 By Max Jelfs
Max started at Penguins in 1997 and has been an event manager, production manager and is currently a producer in the live department. Throughout Max's 23 year career at Penguins, he has travelled the world creating exceptional events. Max is particularly well known for his work in experiential events.More articles by Max Jelfs