According to meetgreen, the typical conference attendee produces 1.89KG of waste per day, 1.16KG of that will go directly to a landfill. This is a staggering amount when you consider research shows there is around 85 million event attendees per year across the UK. Whilst events can have huge positive effects on engagement, retention and motivation. The bi-product of this success, is often a significant carbon footprint. In recent years, sustainability has become an increasing priority across the globe, in turn, creating a demand for eco-friendly events. Ensuring an event is sustainable can often seem a daunting and expensive task; however, it does not have to be. By setting smaller goals and highlighting areas that can be improved it becomes a much more manageable situation. Here are five easy ways you can make your event more sustainable: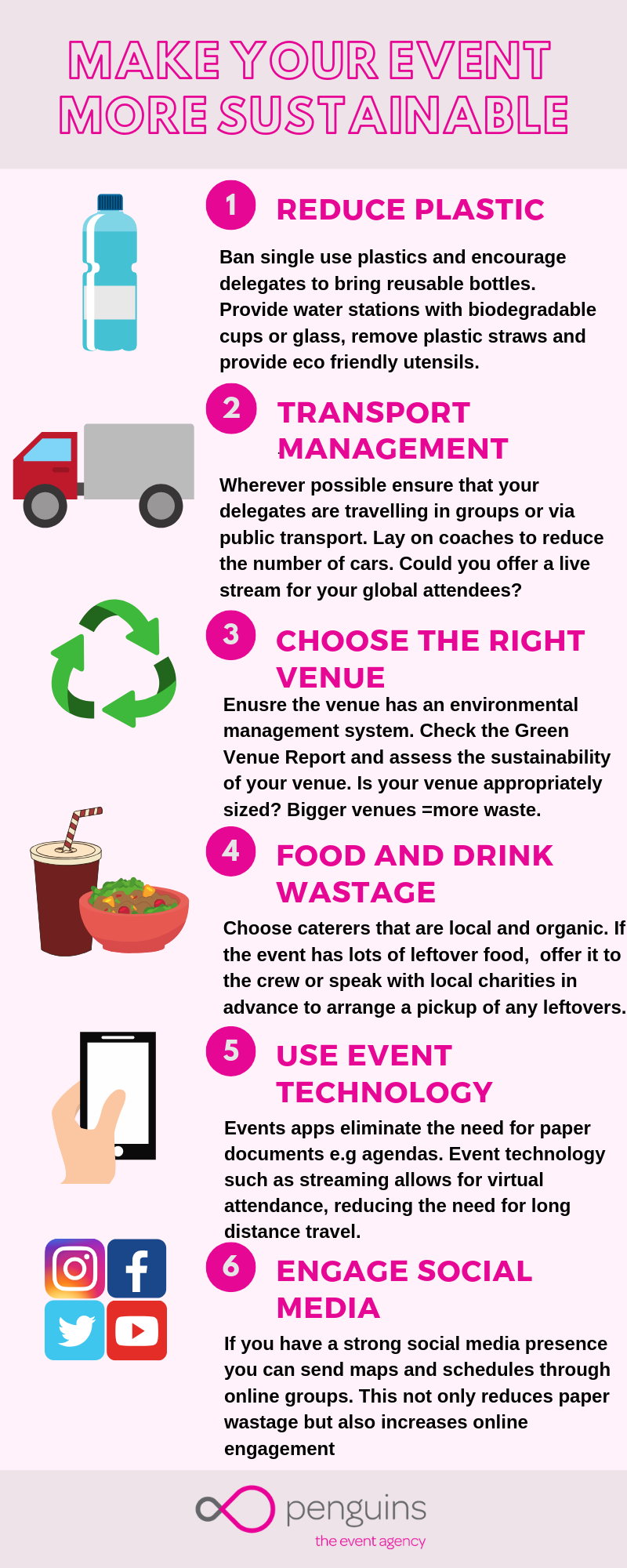 1. Reduce plastic: There is so much plastic at events: signs, name badges, water bottles, cups to name but a few (and think of all the packaging that is used). To start reducing plastic at events, take a simple step such as ban single use plastics. Simply ask your venue to ensure that this happens. They will generally support by providing water stations with biodegradable cups or glass, remove plastic straws, provide eco friendly utensils. You can also encourage delegates to bring their own reusable bottles. Event signage is also a problem when it comes to sustainability; ask yourself do you need this signage? Can it be reused? Does it need to be laminated? You may also be able to use existing signage that venue has in place.
2. Effective Transport Management: Travelling to and from your event can create quite a large environmental impact. Delegates often travel from across the world to get to an event. Wherever possible ensure that your delegates are travelling in groups or via public transport. If possible lay on coaches to reduce the number of cars that are brought to the venue. Could you offer a live stream for your global attendees?
3. Work with environmentally conscious venues: When choosing a venue, there are factors to consider that can ensure as little impact on the environment is possible:
It is important that venues have an environmental management system, working towards reducing their environmental impact.
Check the GVP (Green Venue Report) and see how sustainable your venue is. Many venues are choosing to enter into this report to demonstrate to clients that they are committed to making a change.
Large venues have a bigger impact on the environment due to power usage, waste and carbon emissions – it is important to make sure that you use venues that are appropriate to the size of your event in order to reduce waste.
4. Make plans for to reduce food & drink wastage: A study by meetgreen found that food waste reduction, food donation and composting could reduce 40% of conference event waste. Choose caterers for your event that are local and organic; this not only reduces transport related emissions but also is kinder to the environment. If the event has lots of leftover food, do not let it go to waste, offer the food to the crew or speak with local charities in advance to arrange a pickup of any leftovers.
5. Leverage the power of event technology: Event technology such as events apps eliminate the need for paper correspondence and physical agendas. Event technology such as streaming even allows for virtual attendance, reducing the need for long distance travel. A glimpse into the future of events was seen recently when the DJ, Marshmello held a virtual concert inside Fortnite with a rumoured 10 million attendees which would make it a world record.
There is no need to be daunted by the prospect of creating a sustainable event, whilst it is important that you lead the way, the responsibility should be shared amongst your suppliers and delegates.
To learn more about making your event more sustainable, listen to our podcast!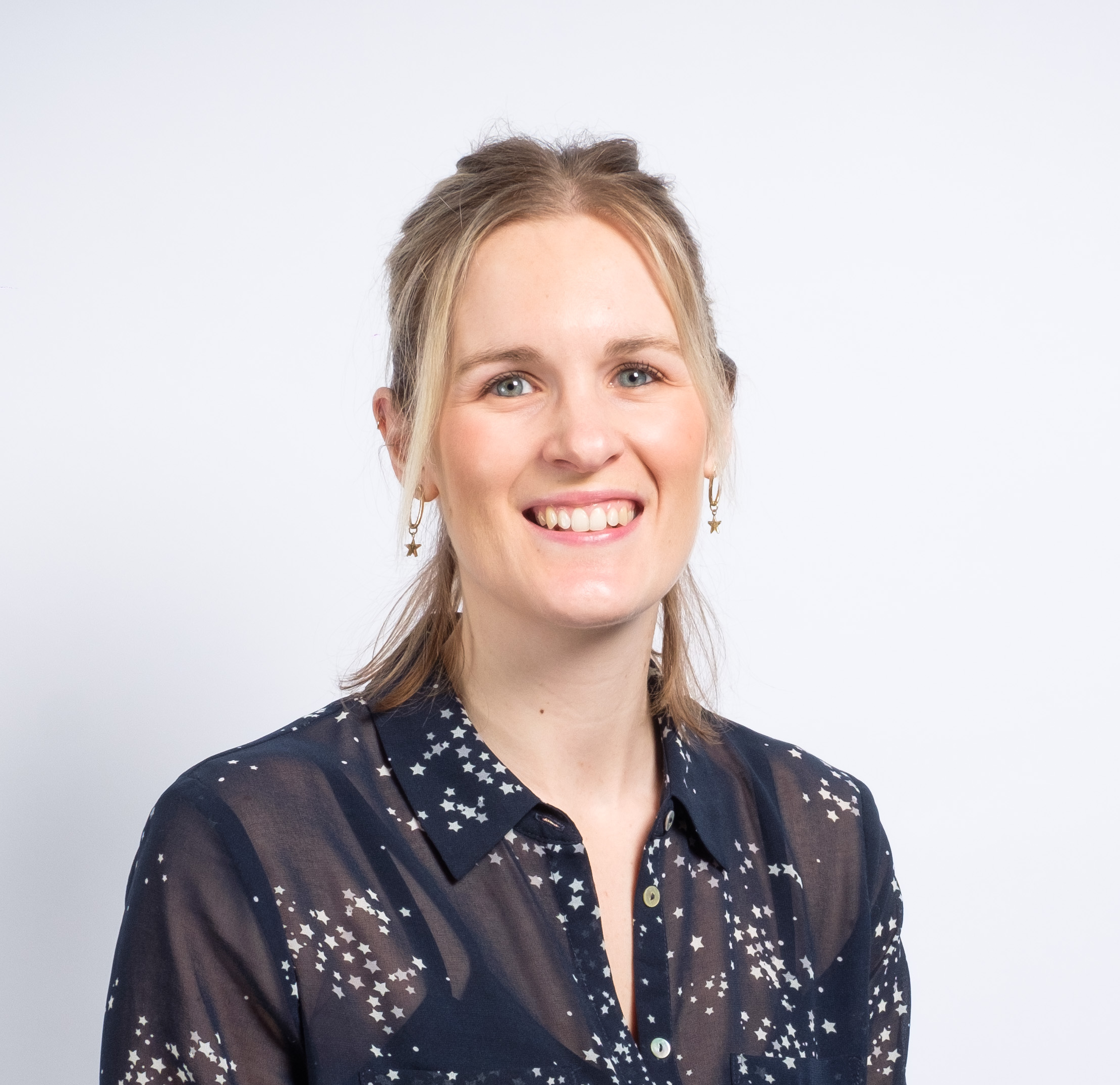 By Clare Fagg
Clare began working at Penguins in 2006 as an event co-ordinator, before moving onto a project management role. Clare is now Operations Manager at Penguins responsible for the management of our events team.More articles by Clare Fagg