So the economic forecast is looking better for 2014, which will have a positive effect on the events industry without a doubt. People's confidence will increase and therefore business optimism will continue to improve…inevitably companies will want to do more events.
As the economy improves, two key areas that were being used to set suppliers apart until five years ago are coming back into fashion. I have noticed people referring once more to ROI. How do you measure ROI? Here we go again; we'll save that for another time! Another fashionable word that suppliers are using again is "Sustainability". It's funny how these things get put to one side when there is economic meltdown. Fortunately there have been a few companies who have continued to fly the sustainability flag over the last few years. We for one have continued to talk ROO (Return on Objectives) as it's almost impossible to measure the ROI of a specific event.
2014 is also a major year for sport. FIFA World Cup in Brazil, Winter Olympics in Russia and of course the 20th Commonwealth Games in Scotland. With all these sporting events, as it was with London 2012, we can look at how they are hosted and see what can be learnt to enhance our customers' events. They are a chance for us to watch athletes strive for perfection, exceed expectations, go for gold and any other sporting clichés you can think of, take their winning mentality and incorporate it into our daily business lives.
As the world has gone totally digital during the last five years, companies are beginning to realise the value of maintaining face to face interaction with their customers and staff. Live events are the perfect way of doing this. It allows total, full sensory immersion into a company's culture or brand. No other media can do this. We have seen a dramatic change in the way customers' think recently. In my opinion, 2014 will be the year of face to face audience engagement. This type of interaction is the most effective way of engaging with audiences and provides total stimulation of our five senses.
After all, we are humans.
Discover the conference trends for 2018 - Download our infographic here.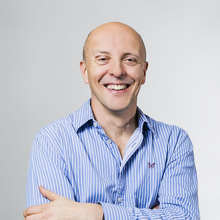 By Mark Buist
Mark began working with Penguins in 1990, taking the position of Managing Director in 1997. More articles by Mark Buist